Lingerie Stories
Hello fellow Blogreaders!
Today I share a post with not only photos and description of lighting (as always – at the end of the post), but also a mini review of a photography studio.
Stylizations were chosen by Kasia Fabiańska and Karolina Głogowska,
designed by Katia Kushnirenko,
make up artist: Asia Huczko,
model: S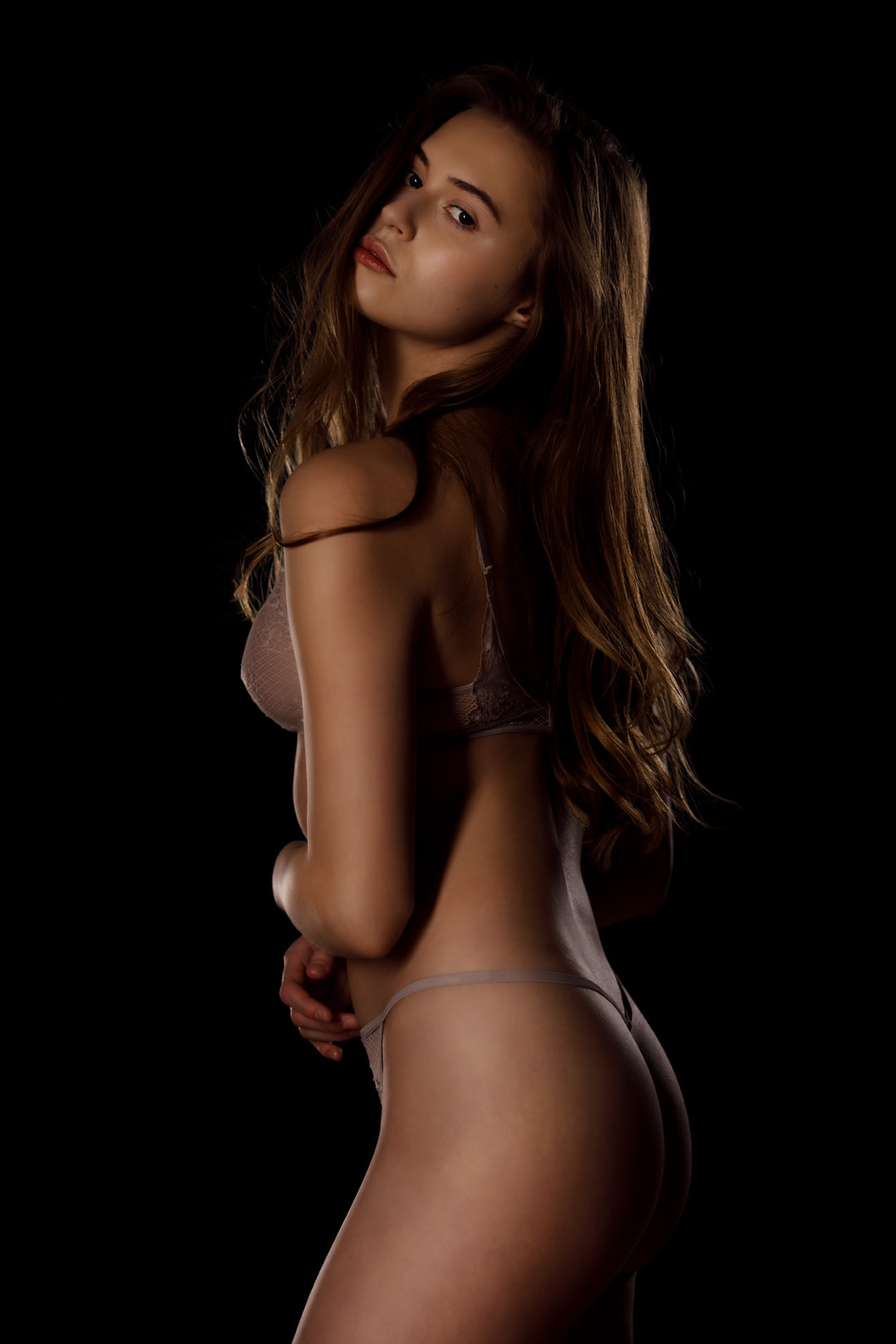 Technical stuff:
– main light – on my left side I set a big stripbox 40x180cm without grid, and because the lamp set on minimum was still too strong, I added another layer of transparent fabric,
– the edges of the model's silhouette were made with 2 available modifiers with grid, 90cm octa and a small softbox 90x90cm,
– to achieve the stripes effect I turned off the light and added a small reporter lamp that shined through the back of an old wooden chair that I found in the studio. It allowed me to obtain a characteristic striped shadow on the model,
– the photos with the curtain were made near the window, between softbox and the strip, without any lighting changes.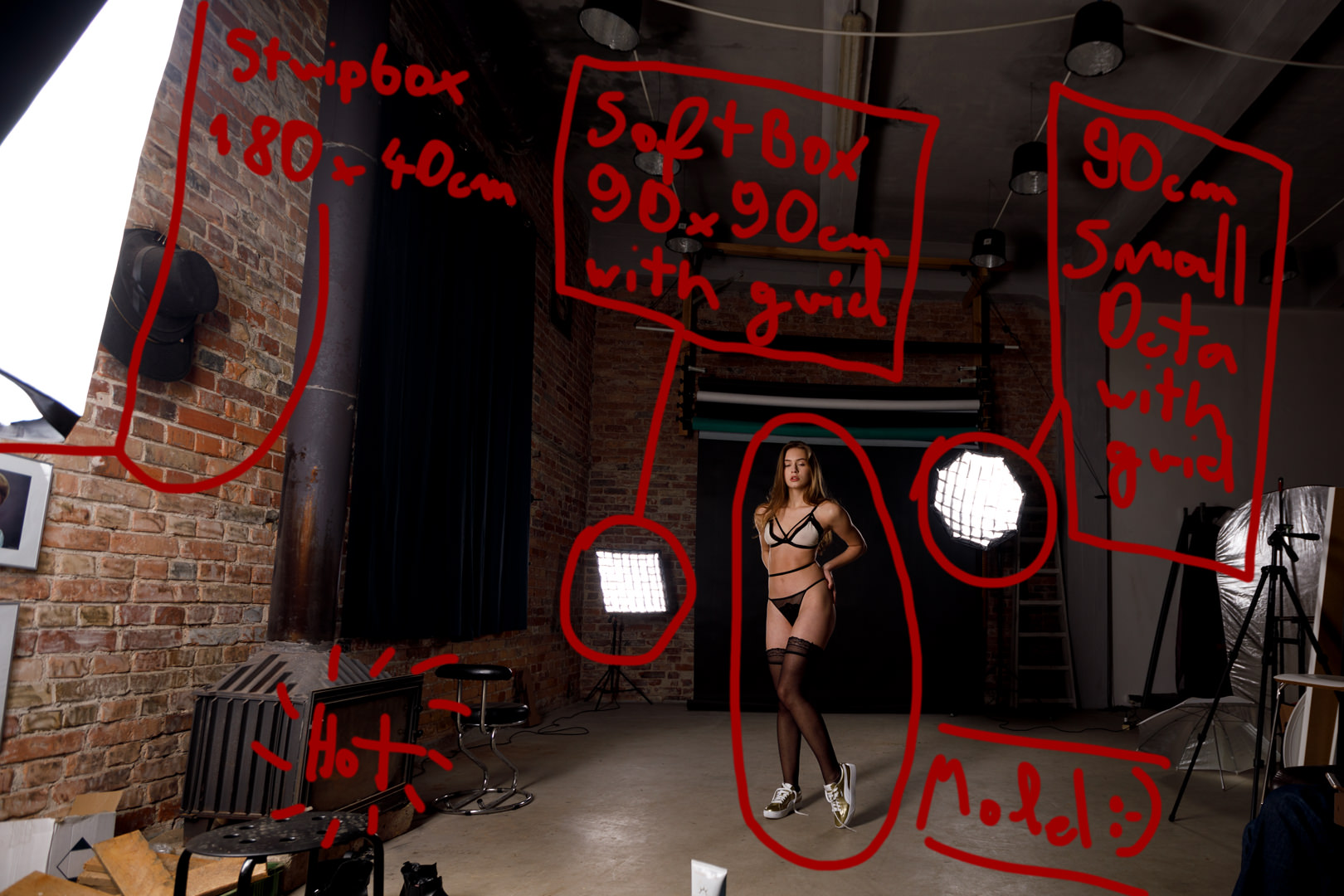 Mini Review of the Stara Klisza Studio
The studio is located in an old factory in Luboń near Poznań. It's 100m2 and 4,5m high. Inside there is a kitchen, a make up station, a bathroom and a couch and a couple of chairs for your team. The whole thing, like most factories, is very industrial, there are authentic red bricks on the walls, and the concrete floor enhances the loft feel of this space. During daytime the sunlight enters the studio through enormous wooden windows – there isn't very much of it, because the windows are facing north, and additionally there is another factory building outside, which obscures the view.
Pluses:
– a cool industrial space – pretty nice arranged,
– possibility of parking right next to the studio,
– low renting price (but it's worth it to carefully check the price list, since there are few variables that may have an impact on it),
– a nice chill in Summer,
– big windows facing north – you can work comfortably even during daytime.
Minuses:
– poor access road (potholes and puddles – luckily on a short segment),
– not all gear mentioned on the website is actually available in the studio (this may be an exception, but it happened while I was shooting there),
– very illegible and contrived price list (different prices for different days, hours, and an additional few % surcharge for renting after 6PM),
– too cold for working comfortably in Winter, we couldn't photograph wntire body because the model was so cold she had to stand close to the heater… Yet still her skin was discolourated from the cold, and I had to fix it in postproduction,
– staff – the man that let us in was not the owner of the studio, and even though he was very willing to help (which is definitely a good thing), he had absolutely no idea about the available gear, didn't understand the photographic language, and I had to explain many things to him, e.g. when I asked about a transparent umbrella, he gave me a decorative umbrelle – a prop for photos.
Whether I would recommend this place or not depends very much on what you intend to do with it. The Stara Klisza Studio definitely has a potential, but it's hard to ignore its flaws. The low price compensates a lot, especially on working days between 10 AM and 2 PM, at the very moment I'm writing this article it's only 25 zł/h. Unfortunately, for 3 hours on a working day between 6 and 9 PM we had to pay 167 zł, and at this price one can easily find a much better equipped space in the city.